Limited Edition Minis
Mad Ritual Relief Rubs in mini form plus a new special blend for cozy season!
NEW!
HOLIDAY BLEND
FEEL BETTER NATURALLY
Mad Ritual™ CBD Relief Rubs and Bath Bombs were created to address multiple symptoms of everyday pain and provide an organic alternative to nonsteroidal anti-inflammatory drugs like ibuprofen.
SIMPLE INGREDIENTS
COMBAT INFLAMMATION
Mad Ritual's Relief Topicals target inflammation- the pesky culprit causing most your everyday pain and discomfort.
One ingredient compliments the next while helping to deliver CBD effectively by penetrating the dermal and subdermal layers of the skin.
ENDLESS USES
YES, YOU CAN USE IT FOR THAT!
Use daily to relieve soreness and discomforts like cramps, stiff joints, headaches, bug bites, sunburns, eczema, skin things, sinus congestion and more!
Designed to be used anywhere on your body that hurts - all the things.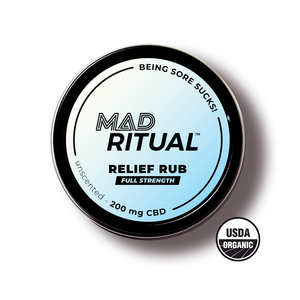 CBD Relief Rubs
Sale price Price $39.00 Regular price $0.00 Unit price / per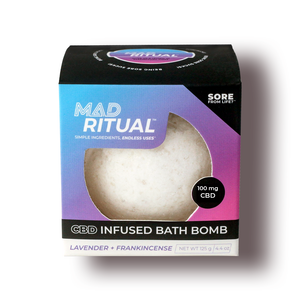 CBD Bath Bombs
Sale price Price $15.00 Regular price $0.00 Unit price / per
How To Create A Ritual For Yourself
Chillin out shouldn't be reserved for vacation or weekends, it should be as routine as brushing your teeth or washing your face. Don't have a self-care routine yet? Here are a few ideas to get started.
The Ritual of Self Massage
5 Mad Rituals for Gratitude
Interested in starting a gratitude practice but don't know where to start? Here are some Mad Rituals for gratitude to help you get started. 
PRACTICE GRATITUDE
Nature's Best
Our relief topicals are vegan, organic and made with the simplest, highest quality ingredients found in nature. It's time to rebel against outdated recovery products.
WE HAVE SOMETHING BETTER.
SHOP CONFIDENTLY